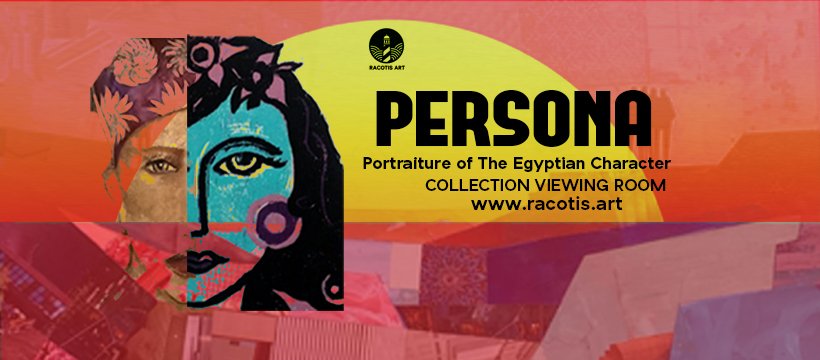 "Persona" is the name of our new collection that will be showcased in an exceptional online viewing room experience in which we try to examine the Egyptian Character and its influence on the practice of more than 28 Egyptian Artists showcasing more than 90 Artwork.
Persona Collection is a curatorial context that is trying to capture the aspect of Egyptian character perceived in Art and creations by Egyptian artists. That could expand to include portraitures of Egyptian characters, Documentation of events, the essence of places, and the nature of landscapes.
Egyptian personality is full of contradictions and variables, which can be said that many of these factors were caused by a succession of civilizations, religions, political and social changes. Resulting from the transformation from one civilization to another
Cultural identity can be defined as a set of moral and aesthetic values, along with common language that binds a society's members, enabling the same community to build its real character through education, culture, and employment, which in turn affects the world, our role, and image in it. Culture and Arts embody our values and define the basis of the good mental health of a society. These practices build an individual and collective sense of identity and citizenship. It is a kind of thinking/making which enables people to form and develop their identity
The collection includes Artwork by Egyptian Artists from various styles, techniques, and Practical experience. Highlighting how the Egyptian persona could have affected these Artists in a direct or indirect way. we're trying also to investigate if the Artist is aware of this influence or it's just unconscious and hidden.
مجموعة "شخصية" هي سياق فني و معرضي يحاول تسليط الضوء على جوانب الشخصية المصرية التي تعد بمثابة مصدر إلهام لإبداعات الفنانين المصريين ، و التي يمكن أن تتوسع لتشمل البورتريهات المستوحاة من الشخصيات المصرية، وتوثيق الأحداث، وجوهر الأماكن، والمناظر الطبيعية.
الشخصية المصرية هي شخصية غنية مليئة بالتناقض والمتغيرات، ويمكن القول أن السبب في ذلك يرجع إلى تعاقب الحضارات والأديان والتغيرات السياسية والاجتماعية في مصر على مر العصور.
يمكن تعريف الهوية الثقافية على أنها مجموعة من القيم الأخلاقية والجمالية ، إلى جانب اللغة المشتركة التي تربط أعضاء المجتمع ، وقدرة المجتمع علي عكس شخصيته الحقيقية من خلال التعليم والثقافة والعمالة التي بدورها تؤثر على العالم ودورنا وصورتنا فيه.
الثقافة والفنون – بما في ذلك الفنون البصرية – تجسد قيمنا ، وتحدد أسس الصحة العقلية الجيدة للمجتمع وتعكس الشعور الفردي والجماعي بالهوية والمواطنة.
إنه نوع من التفكير والإبداع الذي يساعد الأفراد على تشكيل وتطوير هويتهم.
تتضمن المجموعة أعمالاً فنية لمجموعة من الفنانين المصريين من مختلف الأساليب والتقنيات والتجارب الفنية و مراحلها لإبراز كيف أثرت الشخصية المصرية على هؤلاء الفنانين السبعة والعشرين بطريقة مباشرة أو غير مباشرة مع طرح تساؤل آخر حول ما إذا كان الفنان مدركاً لهذا التأثير أم أنه مجرد جزء من لا وعي الفنان أو لا يتوقف عنده.